Fiction In Print and Online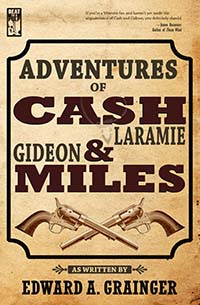 Adventures of Cash Laramie and Gideon Miles by Edward A. Grainger

If you're a Western fan and haven't yet made the acquaintance of Cash and Gideon, you definitely should, and this volume is a perfect introduction. -- James Reasoner.

I really enjoyed this collection and highly recommend it. A fun read, but also one that makes you think and doesn't skirt the tough issues. -- Charles Gramlich.

Even if you don't think you're a fan of "Westerns", do yourself a favor and check out this collection --- it just might prove to be the best 99 cents you ever spent. -- Wayne D. Dundee.
... Grainger's Cash Laramie stories are ... a marvelous blend of crime and Western, with a modern sensibility (and cultural sensitivity) that breathes fresh life into the latter genre.
-- Chris F. Holm.